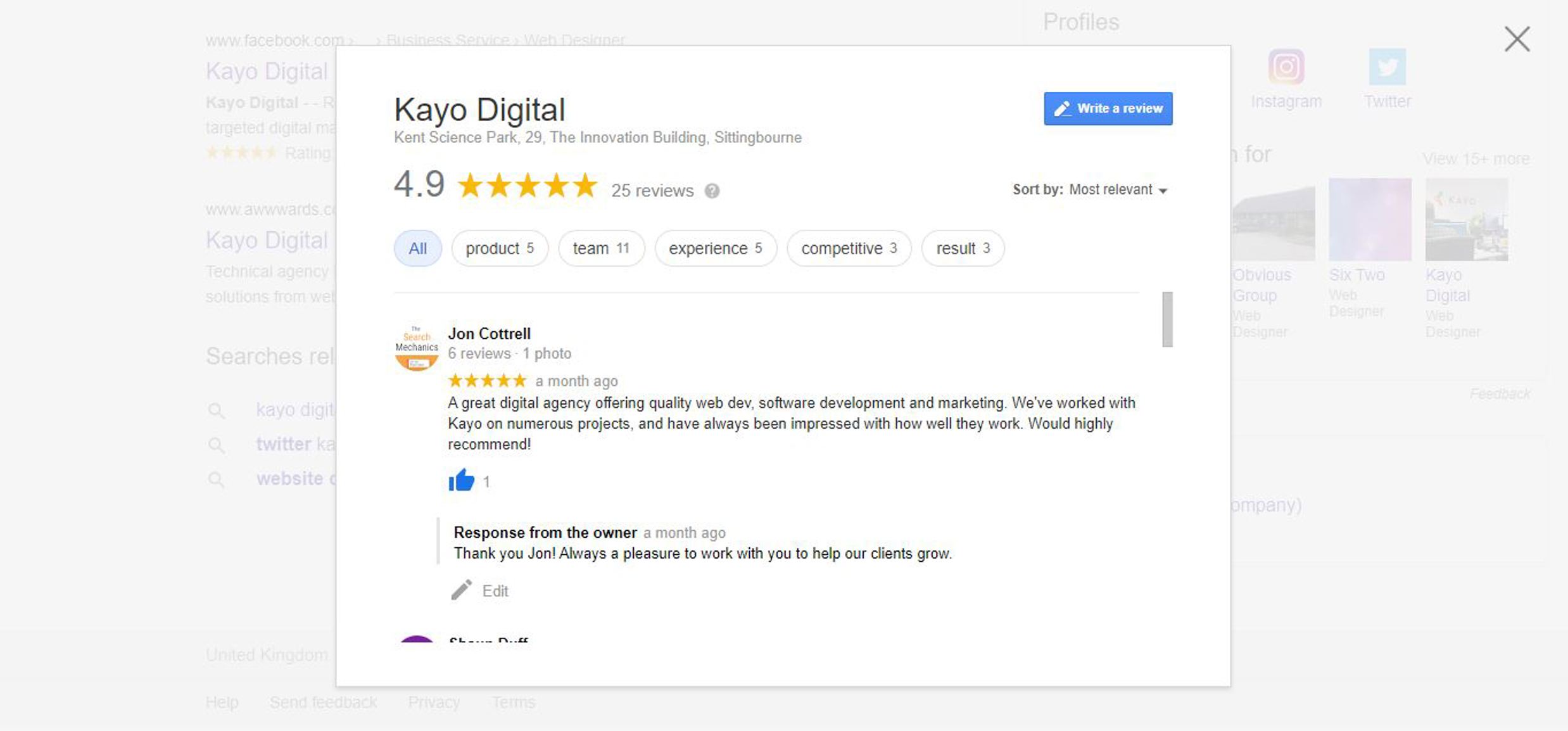 How online reviews can boost your business
When it comes to growing a business, it can be easy to get wrapped up in complicated ideas or those that cost a lot of money - such as online ads. But sometimes, it's important to stop, think and look at simpler ways to maximise your return, particularly if you're operating with a tight marketing budget. The good news is there are many things you can do to gain traction that don't involve splashing the cash. This article will delve deeper into how generating and utilising reviews can be great for the bottom line.
The power of product reviews
Current data indicates that people are 270% more likely to purchase a product with a review. In fact, the average consumer reads 10 reviews before feeling able to trust a business, which shows the importance of placing feedback on your website, app or social media channels. The average consumer spends 13 minutes and 45 seconds reading reviews before making a purchasing decision. So, if you can keep them engaged for this period of time with review material, you're likely to advance them further down the sales funnel.
Online reviews can be particularly important for local businesses. This is because 90% of consumers use the internet to find a local business, with the vast majority (82%) reading local business reviews before even thinking about making a purchase. Not having any reviews could therefore mean you're outdone by a local competitor who has got their review strategy up-to-date and on point.
Why reviews are so important
Reviews are effective. The stats speak for themselves. But why are product and service reviews so powerful and why should businesses incorporate reviews into their overall marketing strategy? Well, reviews are a form of social proof. This is the concept that people will follow the actions of others through recommendations. So, rather than just relying on what a brand is saying, social proof is the voice of the people, which is often thought to be more reliable than company sales messages, which are obviously biased.
Nielsen research highlighted that 92% of people trust a recommendation from a peer. And 70% of people will trust a recommendation from someone they don't even know. This shows the power of social proof which is implemented by businesses in numerous ways. As well as posting reviews of people who have used your products and services, businesses can also benefit from real-time updates. For instance, showing how many people are actively buying from you during the day can create FOMO – the fear of missing out. This fear, driven by social proof, can then push someone to make that all-important purchase promptly.
How to improve your review strategy
Regardless of how much reviews can help businesses succeed, 40% of companies do not have any product reviews at all. And only 27% of companies use third-party reviews as social proof, meaning there are still many things that can be done to boost business.
If you've been slack with your review strategy. Or simply didn't realise how effective reviews could be, don't worry. You can still give your business a boost by:
Asking your consumers to leave reviews
Firstly, asking your consumers to leave reviews is a great place to start. You can do this as part of an email sent once a purchase has been made. While giving people free reign to write what they want can be effective, you might want to give multiple-choice options if you're looking to improve certain parts of your business. You can then write press releases based on your findings and be able to include specific stats. Tick boxes are also simple and easy for people to fill in and might 'up' the response rate.
It goes without saying that the more feedback you have, the more you'll understand your business. Positive sentiment can be shared on social media sites or you can create your own 'reviews' section online. To encourage people to leave reviews, why not offer an incentive such as a discount, gift or cash reward in return?
Top tip: Make sure you're able to moderate your reviews to manage any negative comments effectively.
Don't worry about achieving 5-star perfection
While anything less than 4-stars can start to impact your business, don't feel like every single review has to be 100% glowing. Consumers these days appreciate realness and authenticity and want to see the good with the bad. So, avoid only showcasing the very best on your site as this may look suspicious or contrived.
Make your approach mobile-friendly
Ensure any surveys, questionnaires or straightforward review requests you send are mobile-friendly to maximise response. Over half of all reviews are posted by mobile devices and therefore appealing to a mobile-friendly audience is a must.
Using online reviews to your advantage can be great for business, so don't miss this important opportunity. 
These findings are reinforced by our annual survey that provides benchmarking of key performance indicators to enable business growth online. You can learn more here.
Need help increasing your online reviews or optimising your Google My Business profile? Kayo digital's Kent digital marketing services can help.