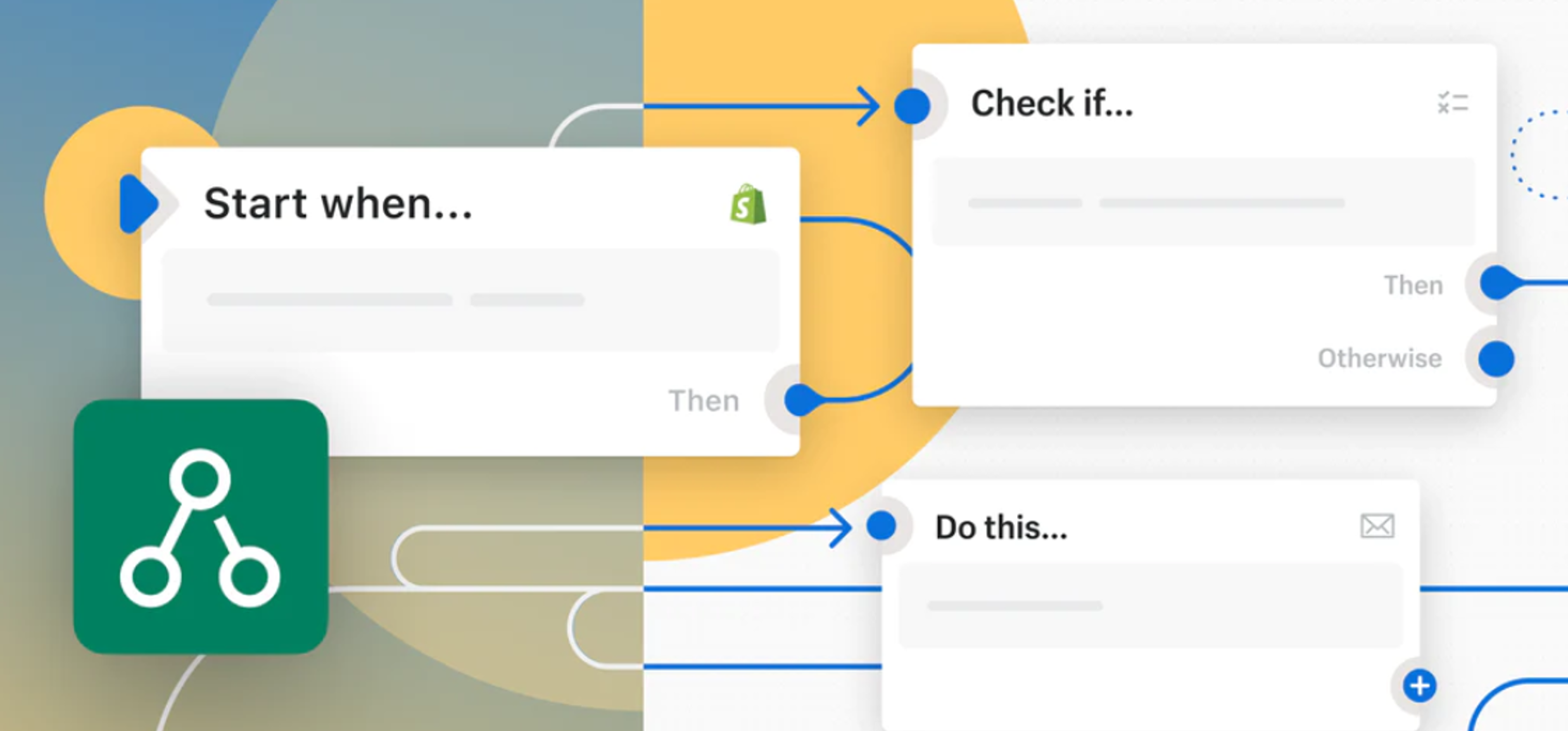 Shopify Flow: how you can start taking advantage of automated workflows
Once an exclusive app for Shopify Plus subscribers, Shopify Flow has now been made available for those on the lower-priced Shopify and Shopify Advanced members.
This is great news for merchants looking to take advantage of automated workflows and helping to minimise or eliminate the need for endless spreadsheets, guesswork, and manual admin.

New to Shopify, or unsure of what the Shopify Flow app is? We've included our step-by-step guide to help you put together your first flow.
What is Shopify Flow?
Shopify Flow is a workflow software app built within Shopify itself that allows you to automate tasks and processes within your store.
A workflow is a series of triggers, conditions and actions that must take place to automate a task. For example, if someone spends over a certain amount on your website, you can automate the customer receiving a reward.
Shopify Flow has the potential to be one of your most valuable tools, simplistic to use and entirely customisable, allowing it to meet the needs of a variety of businesses and their needs.
How to add a flow
Creating automated procedures may seem overwhelming, but Shopify Flow makes it easy. Shopify Flow has a variety of templates for critical business functions, or you can create a bespoke one.
If you're a beginner, we highly recommend getting started with a template to get the ball rolling.
There are three terms to be aware of when making a flow. Triggers, Conditions and Actions.
Triggers:
This is the event or action that 'triggers' the workflow. This can be as simple as someone creating an order or joining a membership or loyalty scheme.
Conditions:
This is put in place to decide whether action needs to be taken.
For example, if an order is over a certain amount.
Actions:
This completes the workflow 'task' after a specific action is made.
For example, a tag is placed against the account to provide points, rewards or even offer a future discount.
Here's a brief step-by-step guide to help you begin adding flows into your Shopify stores the easy way:
Begin by heading into your Shopify account and the app store. You can download the Shopify Flow app, called Flow, and add it to your account.
Once this has been added, go into the app and click the "Browse templates" or "Create a workflow" button. You can begin browsing the templates available.
Once you have found a template that fits your needs, select it.
Now, you can begin creating a flow.
To do this, choose your trigger (in this instance, it will likely be the main subject of your template).
You'll now need to add a condition. You are deciding whether action needs to be taken.
Finish the flow by adding an 'action'. This completes the flow and ensures the automatic process begins kicking in.
Your flow should be good to go. You can now begin testing and putting it into practice.
Our recommended Shopify flows
With Shopify Flow, you can select a variety of flows from their vast library of templates or your bespoke flows.
The selection of templates makes them quick and easy to implement and get started. Below is a list of our recommended flows to get you created:
Alert for an internal issue or safety check – for example, someone has spent a considerable amount that may indicate a hacking or fraud problem.
Upselling campaigns – for example, sending an email or SMS to a customer once they buy a specific product.
Loyalty schemes – for example, keeping track of points, rewards and those members who have signed up.
Gain insights into your customer experiences – for example, tracking feedback, returns and reviews to notice any patterns.
Adding suspicious orders to a Google Sheet for review.

Showing different landing page hero banners to VIP and non-VIP customers

Automate your inventory – for example, automatically notifying you to restock an out-of-stock item helping you keep track of popular or in-demand products.
Now available to those with Shopify and Advanced Shopify membership instead of the Shopify Plus membership, it would be a huge, missed opportunity for you not to begin taking advantage of this innovative tool.
If you have any questions, we can offer clarity. Get in touch today.