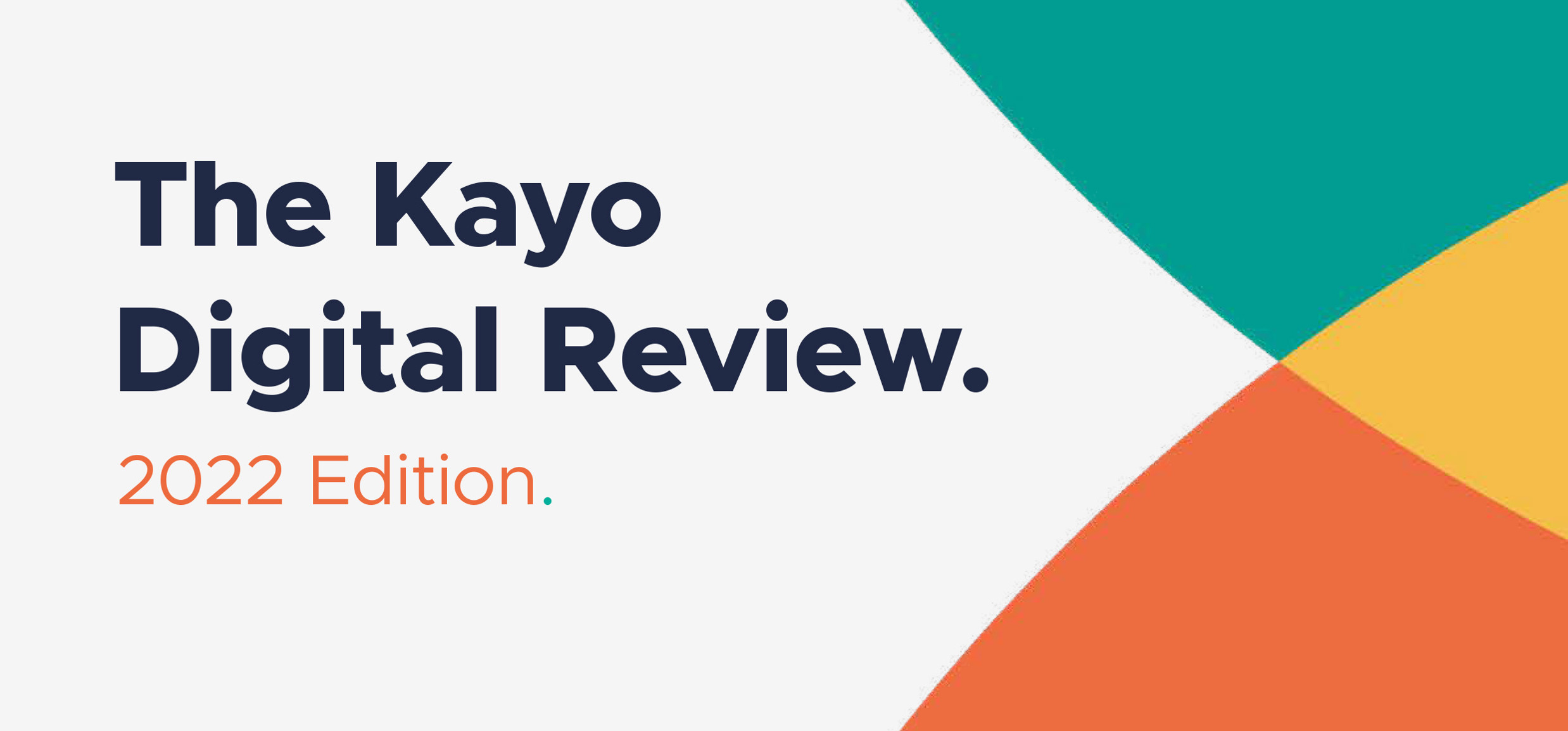 Kayo Digital Review 2022
The Kayo Digital Review provides an analysis of key areas that solicit business growth by reviewing what the fastest growing companies in the South East are doing [and not doing] online.
This report is a fantastic tool for industry leaders and marketers to benchmark key performance indicators to help find patterns and trends that assist with business growth and development.
This year the report is completely free to all clients and key contacts. You can own the latest copy by simply downloading it below, or clicking here.
There's a lot of actionable insight within it and if you do have any questions please contact marketing@kayo.digital.
A summary of the findings
A year on from the last COVID lockdown, with the market settling into the new "norm" we were unsure of what to expect.
We predicted companies using content to compete in the market and advertise their services would grow, and that was proven true, but we never predicted how people would diversify how they view content… enter TikTok.
Year by year we see companies investing in and developing their digital footprint to suit the audience they want to talk to. This is perfectly highlighted by some of the changes we've seen in the past four years:
The % of companies implementing SEO within the list has grown from 28% to 50%
The % of companies using email marketing within the list has grown from 20% to 64% (check the % of eCommerce)
The average amount of social media accounts a company uses has grown from 1.6 to 3.8.
We continue developing the report with personalisation, TikTok, and advertising and content, creating a new challenge for owners and marketers, being heavily featured within the report.
Advertising and content
Advertising relies on a captive audience: without it, there's no such thing as "advertising". Content has had to evolve online and replace traditional advertising by being engaging, thought-provoking and helpful, displayed in a way the intended audience wants to engage with it. For example, TikTok.
TikTok
TikTok is expected to reach almost 15 million users in the United Kingdom by 2025. One in four people would have a TikTok account in the UK by 2025, which is a huge audience to miss out on if you're not already exploring it.
Personalisation
Automation and personalisation, through data, has continued to grow, with a third of the top companies using content to generate a relevant experience across one or more of the four C's:
Content (that can be provided in experiences like emails or other such content)
Commerce (such as physical retail, e-commerce, or a hybrid experience)
Community (such as encouraging people to engage with a community/publication)

Convenience (like offering consumers offers, loyalty schemes etc.)
The value of automation and personalisation has led marketing and business development (BD) professionals to start flirting with digital experience platforms (DXPs). DXP's for clarity, are in the simplest form, a content management system (CMS) with all your marketing tools embedded within it.
We have already seen DXPs being used at a wilder scale, with Hubspot and Umbraco now accessible to the SME market – when historically, DXPs have only been used by enterprise business. Our predictions this will become the norm.
Owned data
Historically, we have mentioned that the value of the data you own will increase, whilst online targeting becomes less effective as privacy laws become more rigorous. This is progressively becoming truer by the day with email marketing making a resurgence as companies try to target their customer base.