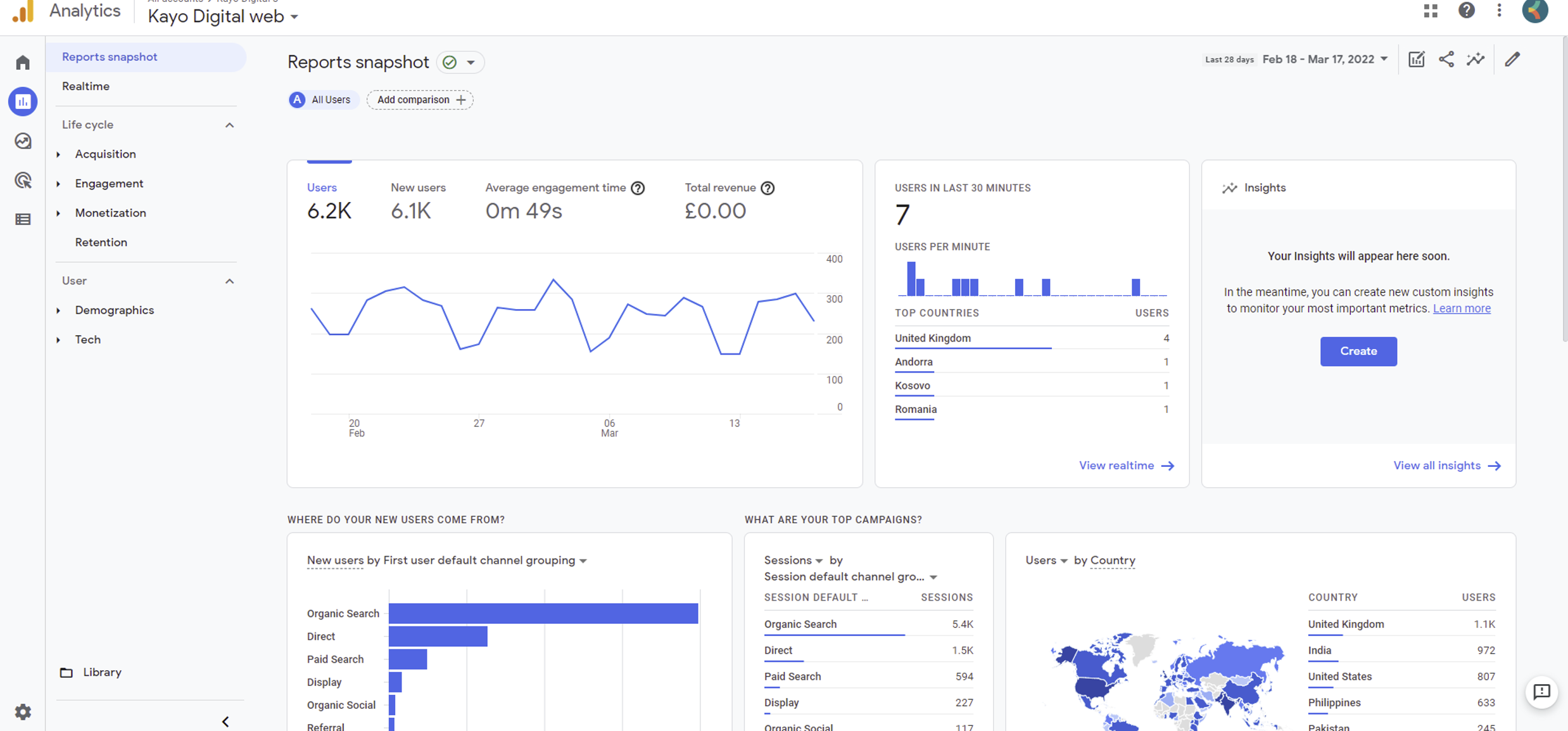 Everything you need to know about GA4
It was announced this week, 16/03/2022, that Google was retiring Google Analytics Universal in July 2023. Google has recommended GA4 (Google Analytics 4) to be its predecessor.
Google retiring Google Analytics Universal may feel like a step backward, especially when you learn you're losing a lot of information you previously had. If you've ever dabbled in using GA4 it has its flaws, especially towards eCommerce clients, which may be a concern.
However, making such a strong move by removing an entire platform, Google's actions show commitment and confidence that this new tool will be ready by July 2023.
What is GA4?
GA4 is Google's latest version of Google Analytics that can not only be used on websites but also apps as well, allowing businesses to easily track cross channel use.
GA4 is promoted as a privacy-centric tool that has been designed to work with or without cookies. With people accepting cookies diminishing and privacy becoming a focal point to everyone's daily internet use this is likely to be a massive benefit for companies' future tracking needs.
What should you do?
We've been recommending in this time of limbo that you install GA4 and Google Analytics Universal and run them in parallel. Don't worry, if you have both Google Analytics Universal and GA4 running at the same time nothing will break and data will remain correct.
It's easy to install and if you need some help, please do contact us.
I would encourage you to do this ASAP to get ahead in the game. July 2023 seems a long way away but – I assume – by 2023 you'd not only like to have data available through GA4 but data to compare with the year before.
Finally, find some training and/or download the demo account Google to experiment on. Allowing you to break and test as many things as possible!
Google demo account: https://support.google.com/analytics/answer/6367342?hl=en#zippy=%2Cin-this-article
What are the benefits of GA4?
The benefits may surprise you. Especially with the inclusion of advanced analysis that historically was only available within Google Analytics 360 (the paid-for version of Google Analytics). So, what exactly are these new inclusions?
Bounce rate being replaced by engagement rate
Bounce rate, the percentage of people that land on a page and leave within 30 mins – is regularly misused with marketing professionals identifying a high bounce rate as bad, when sometimes it's a good thing. GA4 is looking to stop this by removing the bounce rate and replacing it with engagement rate.
Engagement rate defines the percentage of people who have been on a landing page longer than 10 seconds or clicked a conversion on that page or been on more than one page on the site. Helping to track a more valuable user journey.
Cross channel and funnel tracking
Because GA4 can be integrated with websites and apps you're now able to track visitors as they go from your app to your website. As well as this, you have advanced analysis through funnel and path tracking.
Easier Cross-domain tracking
eCommerce users will straight away understand the pain of this. If a visitor ever must leave your website to pay for something and is then redirected back to the site, your tracking considers it a referral or direct within Google Analytics… instead of associating the purchase from its original channel. GA4 removes this by having the capability of adding cross-domain tracking built-in.
It doesn't need cookies and its GDPR compliant
GA4 relies on first-party cookies which keeps it GDPR compliant but as the world moves away from cookies GA4 is designed to leverage machine learning and other protocols to fill in data gaps – when there are no cookies.
Working out how people are enquiring
There is a lot of flexibility when it comes to deciding what you're going to track, what is valuable to you and how to go about tracking them. From tracking people going to the basket then to checkout or watching a video then ringing you. The possibilities are nearly endless.
With the help of the 'new and improved' goal tracking and conversions.
No limit to the traffic you can review
Google Analytics Universal reports limit your reporting to 500k sessions (sessions = how many times the website has been visited). This has been scrapped for GA4 where there is no limit to how many sessions can be reported on.
What happens to my Google Analytics Universal data after July 2023?
The good news is you'll still be able to access the data, export it and make changes to it. The bad news is it won't be tracking any future data.
You will need to consider exporting and storing the old Google Analytics data. The tool won't be there forever and exporting and storing the data is very important for future analysis.
What are the negatives of GA4?
Lack of familiarity
It is new and with it being new it means there is a lot to grasp and a steep learning curve. Familiarity leads to comfort and with GA4 being brought into our life you can say goodbye to comfort in the short term! There is a lot to grasp BUT as touched upon earlier, a lot to benefit from.
Unfinished product
Unfortunately, it isn't like for like product and technology when you compare it with Google Analytics Universal and because of this software, CMS' and products need time to integrate with the platform. Because of this, you'll find a lot of your data sources may struggle to work with GA4 currently.
How can we help?
If you would like to:
Learn more
Set up GA4 to work alongside your current Google Analytics
Have some consulting on how it may work with your current efforts
Please do get in touch with Kayo Digital's Digital Marketing team.