Watts Farms
Website in a week that saved 150 jobs
Watts Farms is a family-run business which covers 10 sites in Kent, Essex and Bedfordshire. They are growers, packers, and distributors of fresh produce.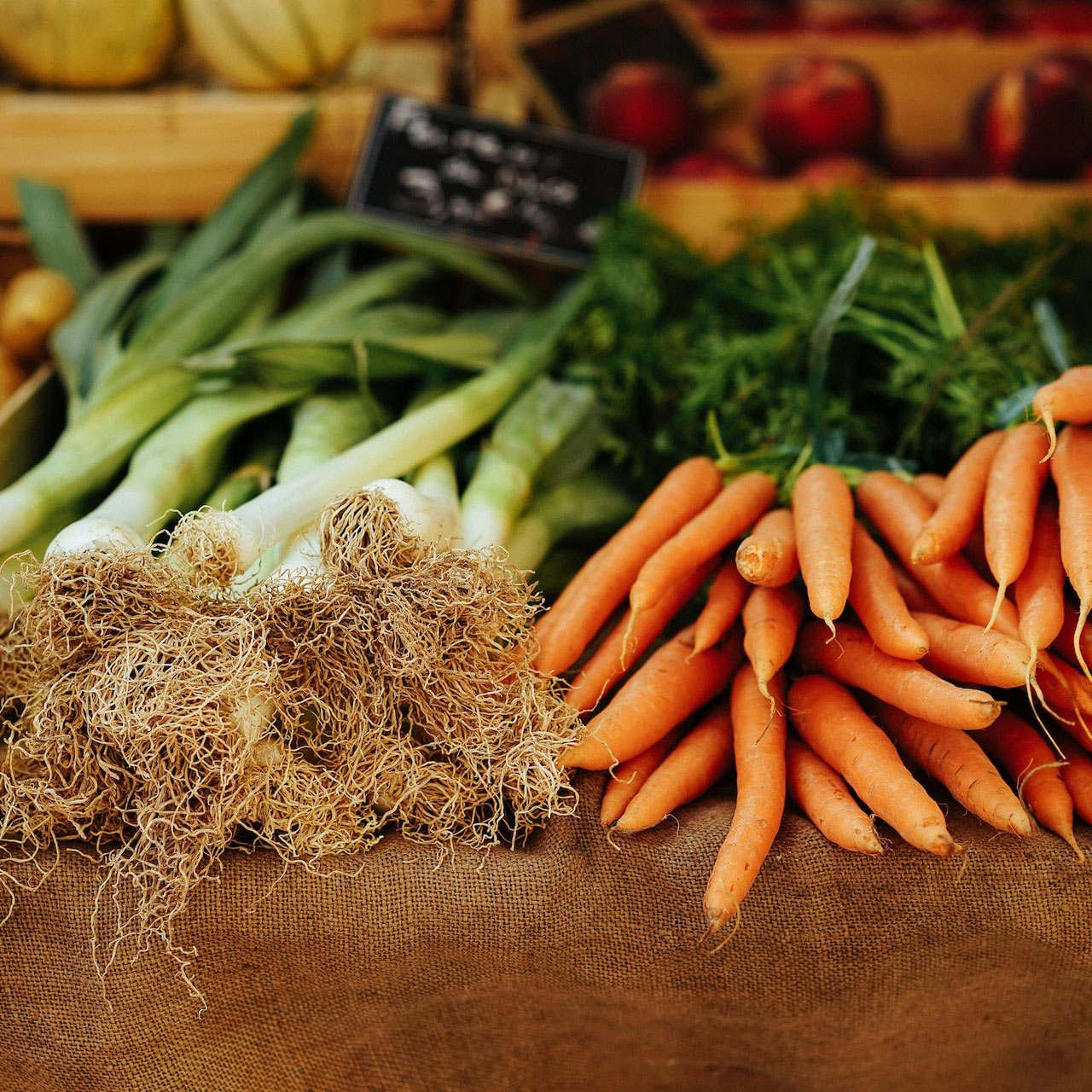 Situation
Watts Farms, a B2B company, came to Kayo Digital with a proposition during the first week of COVID – could we help them set up an eCommerce website targeted at consumers that would enable home delivery, collection, tracking, and reporting to help launch a B2C proposition that would help them to continue to trade during COVID. Not only this, but with food perishing and jobs on the line, could we do it all in 7 days? We agreed.
Up until March 2020 the business was purely B2B, supplying food predominantly to Michelin restaurants across London, hotels, and schools. When the Coronavirus pandemic hit, the hospitality industry ground to a halt, along with Watts Farms' sales.
The entire business, including 150 jobs and £400,000 of stockpiled food, was at risk.
Solution
Key to the strategy to meet the campaign objectives was to build a website in just 5 days that Watts Farms could quickly use to sell and track stock from. While the website was considered a minimum viable product (MVP) that we would then work with our client to develop, it was integral to the success of the campaign that a robust and reliable e-commerce platform was in place as soon as possible.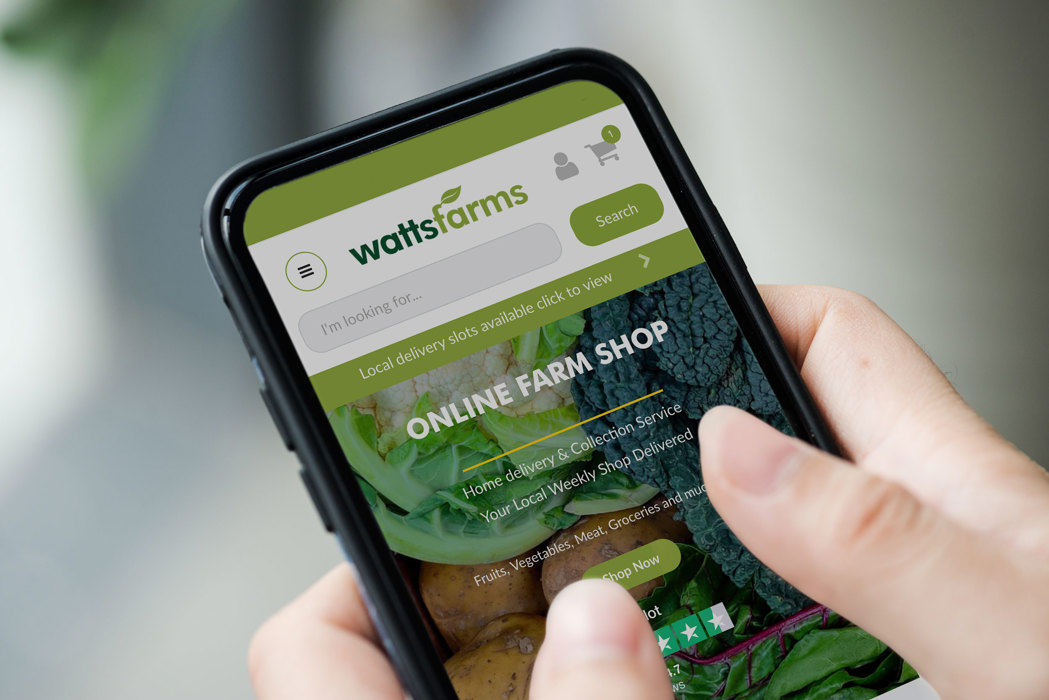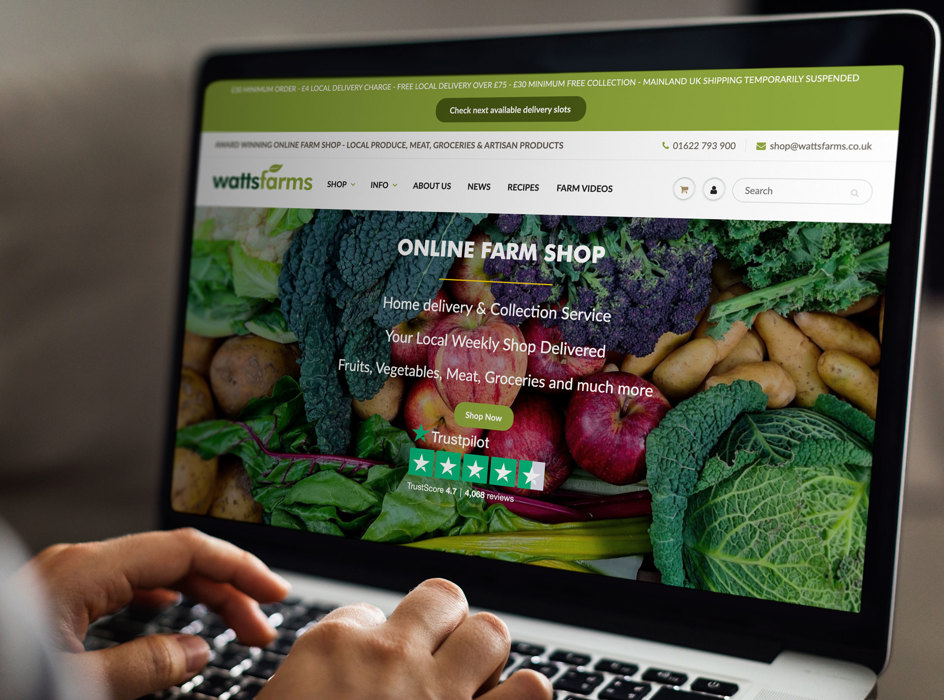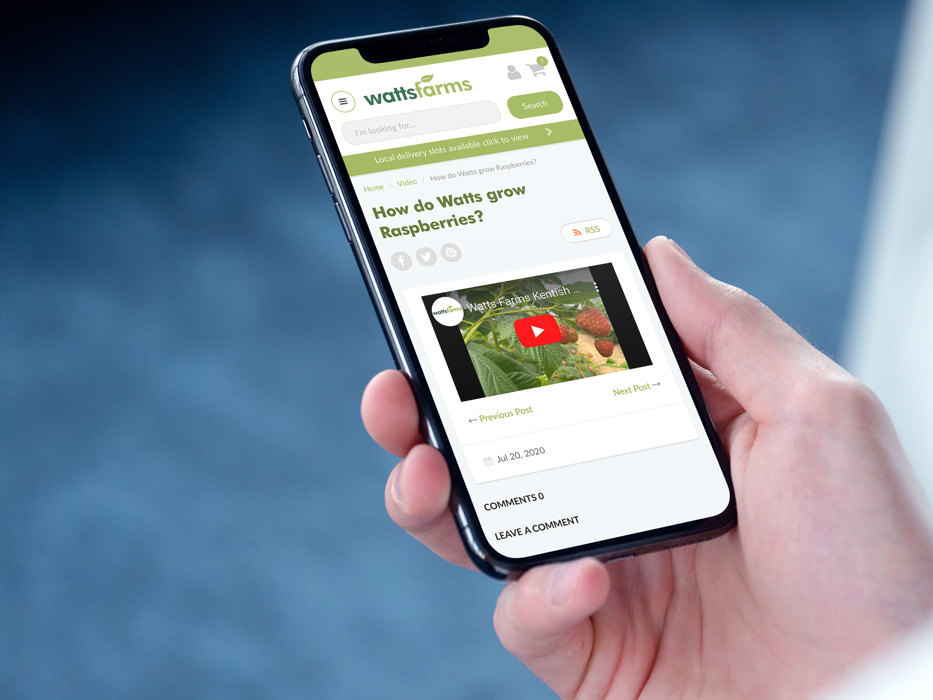 While the window to turnaround the e-commerce website was narrow, time was taken to work with the client to get to know the wider business operation. For instance, we developed the initial website to limit the sum of deliveries that could be planned each day to help Watts Farms finalise the logistics side of the new proposition, and identify the areas which could be delivered to. Furthermore, we ensured that the website itself integrated with Watts Farms logistics and back-office from the get-go so they could take ownership and control as quickly as possible.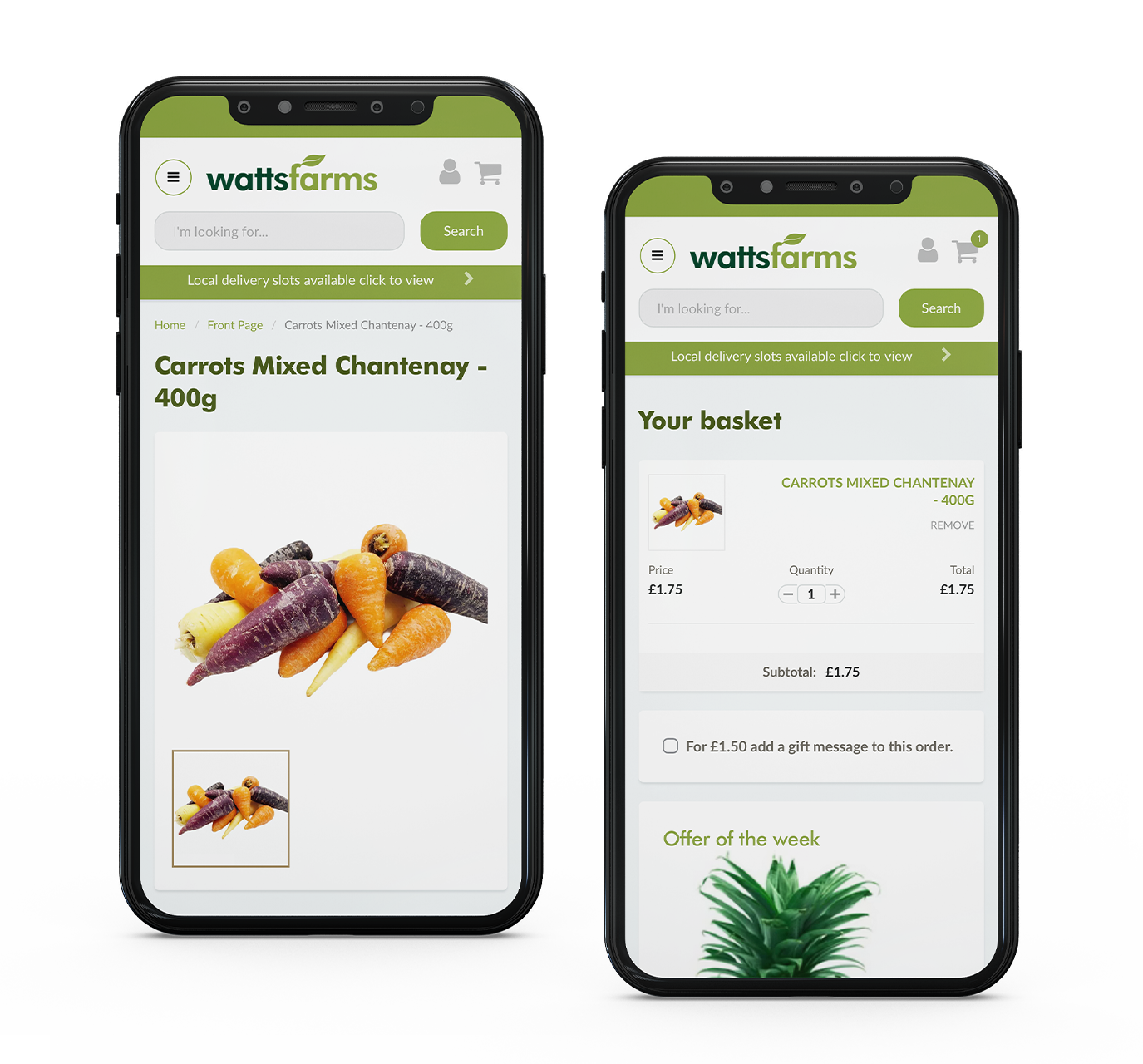 The target audience for the campaign was individual consumers living in Kent – an audience previously untapped by Watts Farms as its business model was geared towards the B2B market. This is where our Digital Marketing Service came into play to advise our client on the best strategies to use promote the launch of the delivery/click and collect service.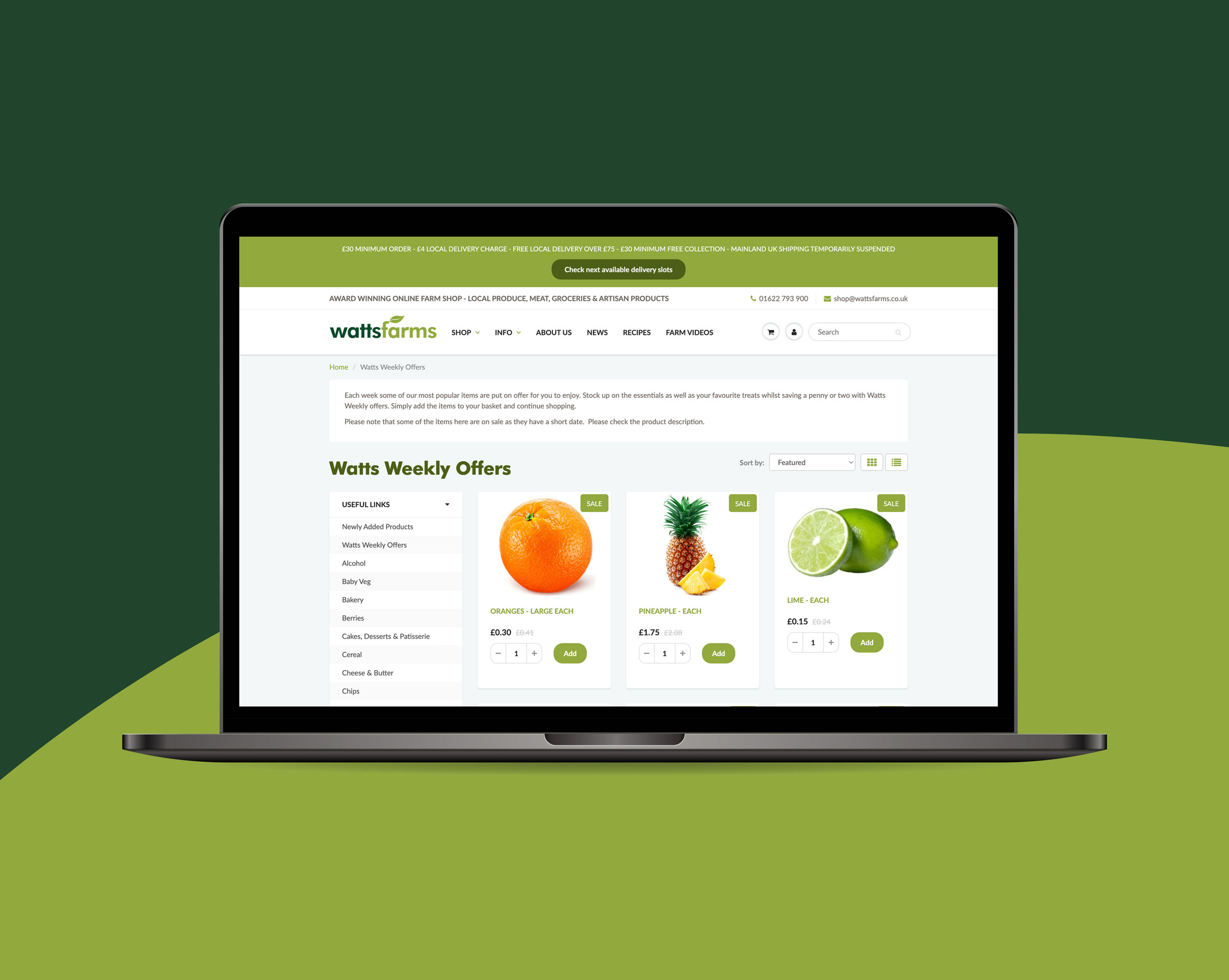 Once the MVP was live the strategy had two elements. An initial awareness campaign focusing on PR, social media, Facebook advertising and email.
The second was a more sales-focused campaign using email automation, referral marketing, SEO and paid advertising.
Outcome
4 million in revenue
in 1st year
"During the Coronavirus outbreak, I saw that our trade foodservice business was dropping off a cliff with restaurants closing and seeing the panic buying that was happening at the supermarkets I wanted to sell my products online to help and prevent loss of jobs. I contacted Kayo with the request fully expecting them to tell me it would take a month but they were very quick to respond and within a week we had the website up. We tested it and made changes and were very happy - we had transformed our business! Since going live they have continued to be extremely helpful. We are not a tech company and so not used to the level of volume hitting the site and some queries that come with that. Ongoing they are fast to respond and tweak things to give better solutions to the site and the customers. Without Kayo's support we would not have been able to keep the site open and all our staff employed."